Disaster Risk and Resilience in the Americas (DRRA)
The United States Agency for International Development, Bureau for Humanitarian Assistance (USAID/BHA) awarded a Cooperative Agreement (2019-2024) to the FIU Extreme Events Institute Disaster Risk and Resilience in the Americas program (DRRA). The program focuses on disaster risk reduction in Latin America and the Caribbean, providing advanced training to higher education faculty and practitioners that will prepare them to help their communities by reducing existing risks, as well as identifying and confronting the driving forces that are creating new risks on an almost daily basis. The training teaches participants about numerical risk modeling and its practical applications. The program addresses risks from multiple hazards, including earthquakes, tropical cyclones, landslides, floods, and droughts. The program's goal is to help communities reduce vulnerabilities, better manage risk, and build long-term resilience – taking at least some pressures off emergency response, relief, and recovery organizations, which are often overburdened and highly stressed.
El Bureau de Asistencia Humanitaria de la Agencia de los Estados Unidos para el Desarrollo Internacional, (USAID/BHA) otorgó un Acuerdo de Cooperación (2019-2024) al programa Riesgo de Desastres y Resiliencia en las Américas (DRRA) del FIU Extreme Events Institute. El programa se enfoca en la reducción del riesgo de desastres en América Latina y el Caribe, brindando capacitación avanzada a profesionales y profesores de educación superior que los preparará para ayudar a sus comunidades reduciendo los riesgos existentes, así como también identificando y enfrentando las fuerzas impulsoras o factores subyacentes que están creando diariamente nuevos riesgos. La formación enseña a los participantes sobre la modelación numérica de riesgos y sus aplicaciones prácticas. El programa aborda los riesgos derivados de múltiples peligros, incluidos terremotos, ciclones tropicales, deslizamientos de tierra, inundaciones y sequías. El objetivo del programa es ayudar a las comunidades a reducir las vulnerabilidades, gestionar mejor los riesgos y desarrollar resiliencia a largo plazo, quitando al menos algunas presiones a las organizaciones de respuesta a emergencias, socorro y recuperación, que a menudo están sobrecargadas y muy estresadas.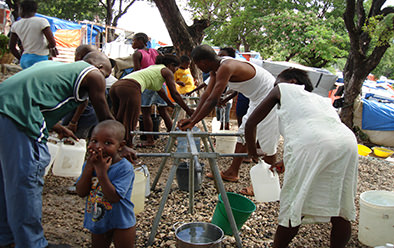 Earthquake, Haiti 2010. Photo by the American Red Cross
Residents of Part-Au-Prince, Haiti after the 2010 earthquake. Water, Sanitation, and Hygiene Sector Status and Trends Assessment (WASH) of Haiti projects performed in 2010.