Disaster Risk and Resilience in the Americas (DRRA)
The United States Agency for International Development, Office of U.S. Foreign Disaster Assistance (USAID/OFDA) awarded a three-year Cooperative Agreement (2019-2022) to the FIU Extreme Events Institute Disaster Risk and Resilience in the Americas program (DRRA).  The program focuses on disaster risk reduction in Latin America and the Caribbean, providing advanced training to higher education faculty and practitioners that will prepare them to help their communities by reducing existing risks, as well as identifying and confronting the driving forces that are creating new risks on an almost daily basis. The training teaches participants about numerical risk modeling and its practical applications.  The program addresses risks from multiple hazards, including earthquakes, tropical cyclones, landslides, floods, and droughts.  The program's goal is to help communities reduce vulnerabilities, better manage risk, and build long-term resilience – taking at least some pressures off emergency response, relief, and recovery organizations, which are often overburdened and highly stressed.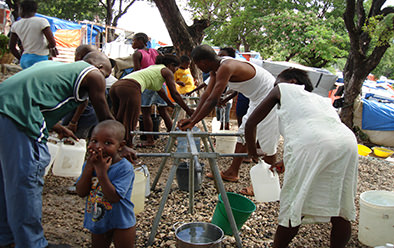 Earthquake, Haiti 2010. Photo by the American Red Cross
Residents of Part-Au-Prince, Haiti after the 2010 earthquake. Water, Sanitation, and Hygiene Sector Status and Trends Assessment (WASH) of Haiti projects performed in 2010.