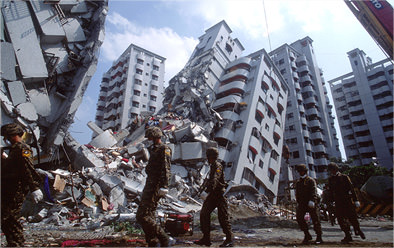 Taiwan Earthquake; Sep 07, 1999. The city of Tai Chung is struck by a huge earthquake killing more than 2,000 people. Taiwanese Army rescue workers hurry to find survivors in the mass destruction.
EEI and the UNISDR "ARISE"
http://www.preventionweb.net/arise/
The private sector annually accounts for approximately 80 percent of all investment worldwide, and in the United Nations Sendai Framework for Disaster Risk Reduction 2015-2030, which was adopted in March 2015 by 187 national governments, the term "private sector" appears 33 times in only 27 pages. Building on and integrating two prior UN-led efforts – the Private Sector Partnership (PSP) and the initiative for Disaster Risk-Sensitive Investments (R!SE) – to more fully involve the private sector in systematic disaster risk reduction, the United Nations International Strategy for Disaster Reduction (UNISDR) launched ARISE, the Private Sector Alliance for Disaster Resilient Societies, on November 6, 2015 in London.
The Extreme Events Institute had worked closely with the UNISDR on the foundational Global Assessment Report on Disaster Risk Reduction (the 2011, 2013, and 2015 issues), was an integral part of the original R!SE, and remains a leader in the new ARISE Work Stream 4: Disaster Risk Management Education and Training. The EEI role with ARISE is to help create and/or strengthen disaster risk management (DRM) courses and modules in (a) university-level curricula, particularly at the M.A./M.S. levels, and (b) training programs for small and medium enterprises (SMEs).
Coastal and Estuarine Storm Tide (CEST)
The Coastal and Estuarine Storm Tide (CEST) model is used to estimate storm surge as low pressure weather systems, such as hurricanes and tropical storms, approach coastal areas. Storm surge and coastal flooding have become increasingly appreciated hazards, brought home so clearly by "Super Storm" Sandy. The research team is comprised of geoscientists, mathematicians, meteorologists, and computer scientists. The model takes into account the expected tide at landfall and the atmospheric pressure and wind characteristics of the weather system. It also takes into consideration major coastal topographic features such as coastal ridges and barrier islands. FIU's research in partnership with the National Hurricane Center will be used to enhance storm surge models for future operational forecasts when a hurricane approaches.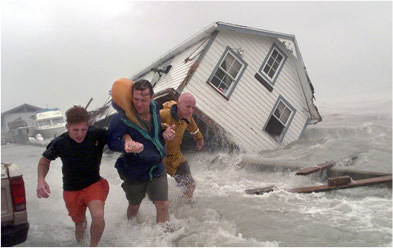 Key West residents fleeing Hurricane Wilma storm surge in 2005.