The EEI Disaster Resilience in the Americas Program (DRCAP)
http://drr.fiu.edu/
In September 2016 the United States Agency for International Development, Office of U.S. Foreign Disaster Assistance (USAID/OFDA) awarded a three-year Cooperative Agreement to FIU for the Disaster Resilience in the Americas Program (DRCAP). The program will help advance disaster risk reduction (DRR) by addressing existing risks in Latin America and the Caribbean (LAC) and by confronting the drivers of new risk, in addition to developing capabilities and mechanisms for increasing resilience, particularly given ongoing climate change dynamics.
The DRCAP strategy comprises five dimensions: 1) Advocacy, which promotes DRR by mainstreaming it into LAC region higher education institutions; 2) Technical Assistance, which provides DRR technical advice to governmental and non-governmental organizations; 3) Capacity-Building, which provides knowledge, tools, skills, and methods to underpin evidence-based learning; 4) Network Fostering and Strengthening, which emphasizes outreach and enabling skills to individuals and institutions to serve as agents of change; and 5) Applied Research, which identifies gaps and opportunities in thematic DRR areas (e.g., unplanned urban settlements, misperception of risk, DRR intervention effectiveness) and how to address the gaps and take advantage of opportunities.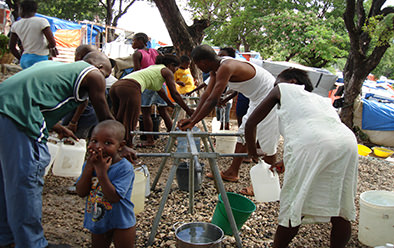 Earthquake, Haiti 2010. Photo by the American Red Cross
Residents of Part-Au-Prince, Haiti after the 2010 earthquake. Water, Sanitation, and Hygiene Sector Status and Trends Assessment (WASH) of Haiti projects performed in 2010.